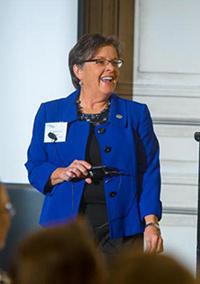 In 2015, while celebrating the legacy of 150 years of UK, itself founded as an agriculture and engineering school, we announced a collective great leap forward for the College of Agriculture, Food and Environment. Our strategic planning team produced a guide for our future that builds on our legacy and also strengthens our culture: Building our Future on the Land-Grant Legacy: Strategic Plan 2015-2020.
A team of 34 dedicated people representing the college's three mission areas of teaching, research, and extension spent a year creating this dynamic vision for the College of Agriculture, Food and Environment. This strategic plan, designed to guide the college through 2020, was built after integrating input from faculty, staff, current and prospective students, alumni, community stakeholders, and government officials.
To gather this input, the strategic planning team held more than 15 listening sessions on campus and across the state, conducted surveys, met individually with constituents, and solicited comments from the public. Their efforts, supported by Mitchen Leadership and Organizational Development, Inc., culminated in more than 1,000 pages of information about the CAFE today and the vision for the CAFE of the future.  
I am confident this vibrant, forward-thinking plan will fulfill our vision of building on the legacy of the land-grant promise. As a result of this planning, we will expand educational excellence and civic leadership, transformational research, and shared knowledge serving the common good. I hope you will join me in embracing our strategic plan. 
Nancy Cox
Dean, College of Agriculture, Food and Environment